SUCCESS NEEDS A SOLID FOUNDATION
A smart idea: Your website created with page4
With your own email address
Also for multilingual websites
tore module can be added at any time
Constant and economical prices
The foundation of any successful corporate website are the content and a professional appearance. Visitors must be able to build trust before they become customers. With page4 you have the technical basis. At a fair price. Start below with a prepared design. Without risk. Or try page4 with a default design. You can create your own design at any time.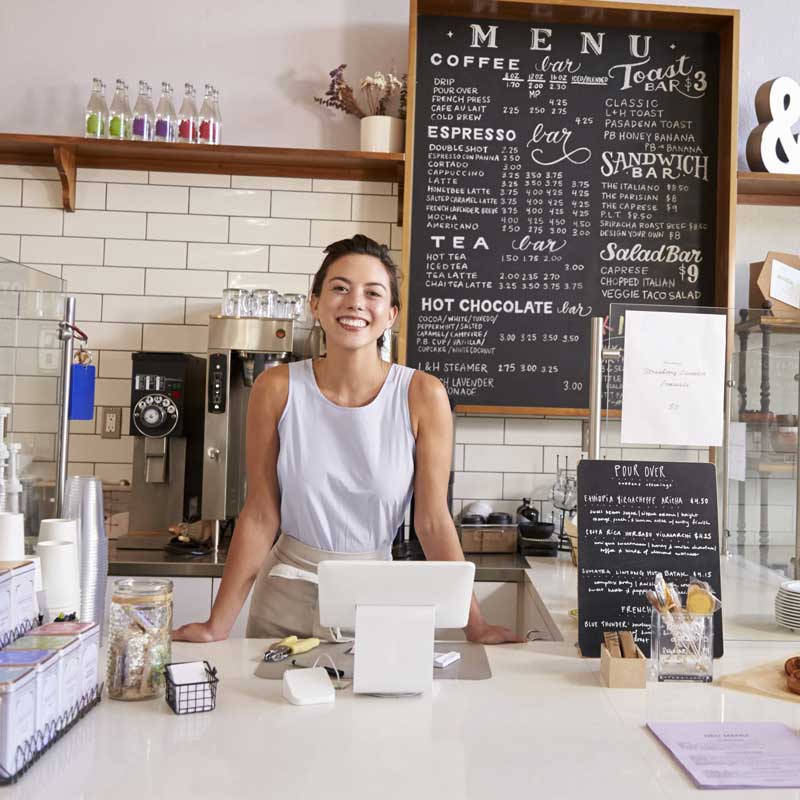 Choose a design for your entrepreneur website
Then you can easily and quickly customize images, colors, texts, etc.. We have already created the basic pages for you. So you immediately have a website that looks good and on which you can build. There are thousands of industries. Therefore, use your own images. Only in this way your website looks authentic and unique.
The design proposals presented above are completely designed with page4. You can edit and change everything with our design editor. For the imprint and other legal texts, there are various providers on the Internet that can help you create a legally compliant company website and avoid expensive warnings. To view the design proposal live, simply click on the "Preview" link. This will give you an impression of how your website will look later on. Of course with your images and texts.
With the link "Select" we save your design selection and then create a new free page with it.
Acquire new customers via the Internet
A homepage for self-employed people doesn't have to be expensive and complex. With the page4 web construction kit you can design everything yourself according to your ideas and most importantly you are able to maintain and expand the content whenever you want. A professional business website is very inexpensive to create if you follow a few important rules.
These are the points you need to consider:
1. SEO and control
Optimize your company homepage for search engines. This is relatively easy. And then keep an eye on the statistics that Google provides. You want to attract and serve customers with your homepage, so you want to earn money. It is not enough to create a website and then forget about it. It's important that you work regularly to optimize your site and show your target audience why you have the solutions you do.
2. Work with professionals
You are self-employed because you want your customers hire a professional to solve their problems. Our recommendation: use page4 to have control over your web presence, but use experts to make your website perfect. There are several areas where we recommend involving external professionals when possible.
3. Basic design
If you are just starting out, you should have a corporate identity (CI) created by a designer. At least a good logo, the right choice of colors and fonts you will use in the future. Get a file of your logo for your website, preferably as PNG and if useful with a transparent background and the color code of your business colors. With this information you can then design your website and build a consistent look.
4. Professional images
If you need special pictures to present your business idea, it makes sense to hire a professional photographer. There are a lot of free pictures on the web, even in high quality. But you can assume that pictures there will be used by many people. It might not come across positively if you use images that can also be found on competitors' websites. Then better invest some money. The costs are not as high as you might think.
5. Perfect texts without mistakes
You certainly know best what you do. But can you formulate it in such a way that your texts lead to visitors becoming your customers? If so, then you should have your texts checked for errors by an external specialist. Simply prescribe the individual page texts in Word and send them to a professional for proofreading. This is much cheaper than you think and afterwards you can be sure that everything is written correctly. They say that first impressions are important. This is true, and if visitors visit your website for the first time and notice spelling mistakes already in the headline or in the first text, their trust will decrease noticeably, and without trust you won't get customers. A professional will surely help you to formulate perfect texts that will help you to sell your service better. An investment that always pays off.
6. Use a descriptive domain
The domain is the label of your website. It's perfect if you can already see from the domain what to expect. The domain fitness-ab-50.com is clear and distinct. If you are locally active, it can make sense to express this in the domain as well. For example fitnessstudio-berlin.com or kosmetikstudio-schleswig.com show a visitor right away if he is right. We recommend, if possible, to reserve the com and the de domain, if you are active in Germany, or to take an at or ch domain to the com domain, if you have your business in Austria or Switzerland. A second domain does not cost much and so you prevent that a colleague uses the same domain, only with a different ending. You can't always prevent this. But as long as you own the com domain and the domain of your country, this is a very good start.
7. Just start and then update frequently
The most important thing of all. Start. Focus on the most important content first. You need a good home page where you crisply introduce what customers can expect. Please don't start with "Welcome to my homepage". If such an introduction is on your mind, do yourself a favor, write down the most important points of your services and give this list to a professional as described above and ask to create a good text for a front page from it. This is the best investment you can make. Because only if visitors can be convinced by your front page and the content there, you have a chance to attract customers. Otherwise you will never see these prospects again. Especially if you advertise on Google to attract visitors, it's important to have the right content there.
What pages you need to start
In addition to the home page, you need a good, legally compliant imprint and a privacy policy. A page where you introduce yourself, preferably with a photo and a lively description of why you do what you offer and what customers can expect from you. Another page where people can contact you via a contact form or send inquiries is also important. And if possible, a page with customer testimonials, references. Nothing builds trust like testimonials from satisfied customers. Depending on what kind of service you offer, there are also pages where you present your products and services in more detail, possibly prices, etc. If you have a local business, the integration of GoogleMaps is mandatory.
Once you're done, register with Google
Once this information is ready and you have stored the information that is important for Google (description, title, etc.), submit your page to Google. And then the real work begins. If possible, set up the blog module and report there regularly once or twice a month about things that are relevant to your target audience. You are an expert and the more you share your knowledge with your customers, the more trust you create and trust pays off.
Conclusion and a small hint
If you follow the points mentioned here, you will start a successful web presence with page4 and gain customers. If you want to sell products online, you should take a closer look at our store. It is just as easy to use and very professional.
Get inspired by other sites...
Implement these tips now
In a few seconds you can already start with the free version and take the first steps. Completely free, without risk and as long as you want. Once you are done with your site, you can upgrade to a purchase version at any time and take all the content with you. Our support is of course also available for the free version. Fast and competent. Promised.