THE BEST BOARD FOR YOUR PHOTOS
Your photos deserve a page4 website
Unlimited number of pages possible and easy to manage.
Own image administration to organize even 30,000 photos or more.
Create and apply design templates for each page.
Great galleries to show your images to the perfect presentation.
Fast support from our friendly, knowledgeable staff.
Especially as a photographer you need a website without limits. It is not important to have a completed homepage in 5 minutes. It is important to be able to implement all ideas easily and without limitation. It may take some time to get started, but it's worth it. Get a page4 website. Try page4 without any risk You will amazed. If you have any questions, don't hesitate to contact our support team.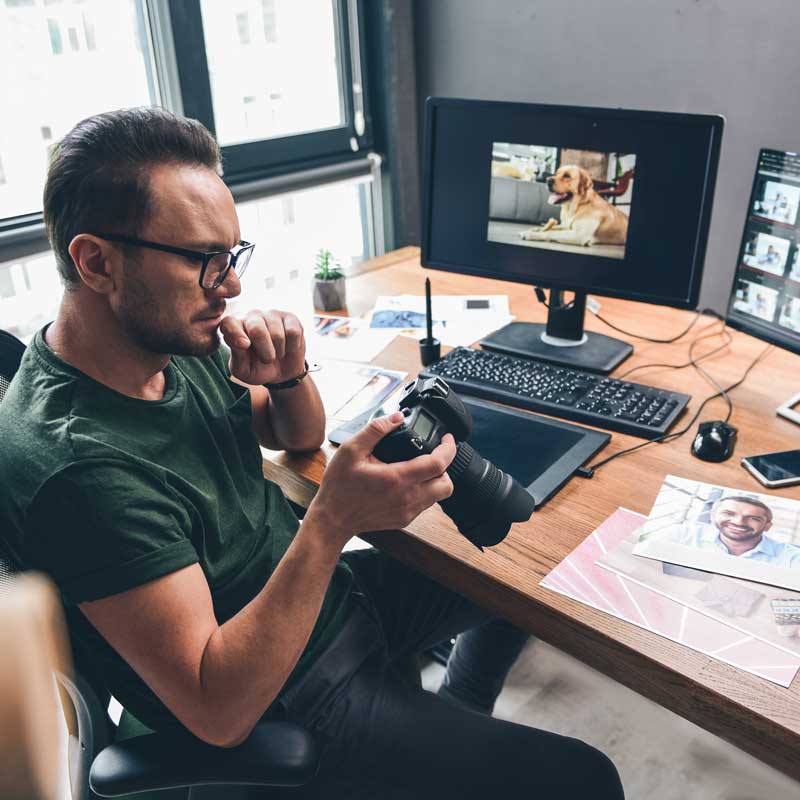 The perfect location for your best photos
You are a dedicated photographer? Regardless if you are a professional, or a hobby photographer; a page4 photo homepage instantly convinces your customers and turn a spontaneous website visitor into a dedicated fan; your family and friends will be impressed! Easily design your personal page4 web presence and share your talents with the world in exceptional galleries with high resolution images.
Your own personal photo blog
Using predetermined publication dates allow you to regularly publish new photos without having to sit at your computer each time to upload them; simply prepare your blog articles on one day, and decide on which day they are to be published. This way your blog is constantly updated which the search engines will notice and automatically improve your ranking. Regardless if you are publishing breathtaking panoramic images, perfect portrays, brilliant macro takes or product images; page4 will always offer you the perfect frame to brilliantly highlight those images. Regardless if you do this by means of a slideshow running in the background, or the header or footer of your page - everything is possible, lay it out how you like it best. The purchased version allows you to upload up to 500 images on to your website simultaneously organizes these at the same time. Each uploaded image can be used an unlimited number of times on your website, regardless of size. It will even be optimized.
Use your page4 website as a business card
The column function in our purchase versions, allows you to perfectly present your work on your start page or any other page of your site. Having an overview of all topics by means of a presentation of perfect images which are linked to the respective pages, will be noticed by your visitors. More and more customers are using the web, looking for photos and photographers for commercial reasons. With a page4 website you are prepared for anything.
The correct version for your needs
Even our free version allows you to create a professional photography homepage, even though it is a little more time-consuming to upload a large number of images as the free page4 version only allows 3 simultaneous uploads. Test out page4 as long as you want, and switch to the purchase version once you are convinced. Even the light version offers you lots of storage, allows you to create columns on your homepage and allows you to upload up to 500 images simultaneously - around 16 cents per day ($60 annually) - for your own domain.
Your photos deserve perfect presentation
Other web-kits that allow you to upload large image files may seem great on the first look since you do not have to prepare the images for presentation on the web. However, the image quality will suffer because these web-kits reduce the dimensions and the file size of your images once these are presented on the homepage. The reason for this is simple: the file size of images can be reduced by specific programs on the servers. However, these programs do not do it as professionally as for example Photoshop, but more important is that you have no control whatsoever over the quality in which your images are saved. We believe a professional you should have full control over your images, since your homepage is your business card with which you are trying to convince customers.

A bit of data for the specialists
Large ultra HD monitors have a resolution of 2560 x 1440 pixels. According to statcounter.com, 13.4% use a monitor with a resolution of 1366 x 768 pixels and as much as 17.8% use the mobile resolution of 360 x 640 pixels. HD monitors (1920 x 1080) are being used by 6.5%, and for around 28% the data is unknown.
What does this mean for your website? Even if you're using a large HD or UHD monitor you have to take into account that many of your users will have a much lower resolution when viewing your page. For that reason it does not make sense to upload images which are larger than 2560 x 1440 pixels. It is more than adequate to have gallery images uploaded in a resolution of 1500 x 1000 pixels. Since the browser itself needs space for menus etc, it is almost impossible to display an image with a height of 1000 pixels even on a UHD monitor; on smaller monitors it is impossible from the get-go.
As a rule of thumb you should remember the following:
Reduce images that you intend to use as the background of your website to a resolution of 2560 x1440 pixels. This way, even a UHD monitor will display this image perfectly. All our background images have these dimensions, and none of them is larger than 1 MB in file size. The limit of 3 MB per image you're normally never be noticed even at 100% quality. Should this ever occur simply reduce the quality to 80%, and you will not see a loss of image quality.
Gallery images should not exceed 1000 pixel in height and 1500 pixel in width. Again, larger does not make sense the galleries automatically reduce the images in resolution, if it exceeds the above mentioned values. At this resolution it is impossible to generate images that are larger than two or 3 MB - at least I have never ever managed that!
Images for the content area should not be larger then the width of the column. I a regular column is 1000 pixel wide, two columns would be 500 pixels each and for three columns a width of 350 pixel is adequate.If you keep these rules in mind, and prepare your photos with good software, your pag4 photography website Will load perfectly, react very quickly, and present your images in perfect quality. By the way, we're currently working on the option of activating color profiles for the images, which will lead 20 Even better presentation of your photos.